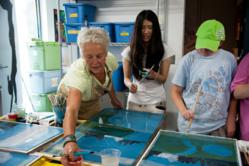 Baltimore, MD (PRWEB) May 18, 2012
Maryland Traditions, a program of the Maryland State Arts Council (MSAC), has announced that more than 30 master artists and their apprentices will lead free workshops, demonstrations or both at the 2nd Annual Maryland Traditions Folklife Festival. The Festival, an interactive, family-friendly celebration of traditional music, arts and foods from across the state is from 11:00 a.m. 7:00 p.m., June 16 at the Creative Alliance at the Pattersonrain or shine.
There are so many stories behind the artistic traditions practiced by these individuals. Their everyday work and arts are an important and fascinating part of Marylands ever-changing cultural heritage, said Clifford Murphy, Ph.D., Director of Maryland Traditions, We want people who come to the Festival to connect with and learn from the traditional artists of our state.
In addition to traditional arts masters and their apprentices demonstrating for and teaching Festivalgoers, the Festival features two music stages with Maryland musicians performing a broad range of musical genres that include Himalayan music, South African and Mexican dance, Bluegrass, Irish and Gospel music, a salsa orchestra and more. Maryland-made arts and crafts, plus an array of distinctive Maryland food favorites will also be available for purchase.
WORKSHOPS AT THE 2ND ANNUAL MARYLAND TRADITIONS FOLKLIFE FESTIVAL:

All children must be accompanied by adults
ARTE DE ESTAMBRE (Mexican Yarn Art) with Francisco Loza, a self-taught artist who originally hails from Guadalajara, Mexico. He is an artist-in-residence at Creative Alliance in Baltimore and creates Arte de Estambre (Yarn Art) by working on a wood surface using a combination of waxes as an adhesive base on which he intricately weaves together thread by thread yarns of brilliant colors. Francisco learned his technique by working for over 15 years with indigenous Huichol artisans who live in the Sierra Madre mountains of Nayarit and Jalisco in central Mexico. This workshop is for children ages eight and older. STUDIO #7, 1:00-5:00 PM.
CHINESE BRUSH PAINTING with Mei Yu Green of Anne Arundel County. This workshop teaches children and adults of all ages traditional Chinese brush painting, a tradition that spans several centuries. As opposed to oil painting, it involves the use of brushes dipped in ink and is similar in method to Chinese calligraphy. Workshop participants will learn the techniques of holding the brush and painting basic shapes found in nature, such as bamboo leaves and branches, on rice paper. Two 30-minute sessions will be featured back to back. CLASSROOM: 4:30PM-5:30PM.
DUCK DECOY PAINTING with Rich Smoker and the Ward Museum. This workshop teaches children to paint waterfowl on pre-cut flatties (duck-shaped pieces of wood). Master carver and painter Rich Smoker leads this workshop, intended for children age four and older, with assistance from Salisburys Ward Museum of Wildfowl Art. Classroom can accommodate 15 spaces for adults and children at any given time. CLASSROOM: 3:00-4:00 PM
EGG PAINTING with Halyna Mudryj, master of pysanki, a style of Ukrainian egg decorating through dyeing and painting. Pysanki is a variation of pisanki, which is a Polish style and will also be demonstrated at the Festival. Two thirty-minute workshops have room for 15 adults and children age eight and older. CLASSROOM: 1:00-2:30 PM.
KOLAM PAINTING with Shanti Chandresekar, an Indian Kolam painter from North Potomac, Maryland. Shanthi learned Kolam painting from her grandmother in Tamil Nadu, India. Traditionally, Indian women began their day by drawing Kolams with rice flour temporary, symbolic paintings outside their front door as a sign of welcome to guests. This is an all-ages workshop. MEDIA LAB: 4:30-5:30PM.
NATIONAL GEOGRAPHIC PHOTO CAMP with Erika Nortemann & Karine Aigner. National Geographics Photo Camp will consist of a 30 min introduction to cell phone photography & social media. Participants must have their own camera phone and have or be able to download a Twitter app. Participants will do 1-1.5 hours of field photography throughout festival. MEDIA LAB: NOON-4:00 PM.